8th Dec 2015
Ultrasafe's top 10 tips for a safe and happy Christmas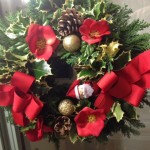 Homes and business may be open to increased fire risks during the festive season so here's our top 10 Ultrasafe tips for a safe and happy Christmas:
1. Electricity and power
During Christmas and New Year, UK households plug in more electrical items than ever and an overloaded power socket is a fire risk. Make sure you check the amp rating on each plug.
2. Christmas trees
Before festooning your tree with tinsel and lights, check each light set for cracked or broken plugs, frayed wires, or loose connections.  If in doubt throw them out.
3. Phone or laptop chargers:
Never leave your phone or laptop charging on a bed. Charging devices build up a lot of heat so covering them up with anything like a duvet could cause the fabric to catch fire.  Never use a charger that's not intended for your device.
4. Going away
If you're looking forward to some time away, make sure you switch off and unplug household appliances such as TVs, washing machines, microwaves and tumble dryers.  All these items still have the potential to catch fire due to complex circuitry within, a bad connection or an electrical short circuit.
5. Turkey and trimmings
Take care with disposable foil trays – the type we use for cooking our super large Christmas turkeys and roasts. Such trays are prone to puncturing therefore increasing the risk of fat or oil dripping onto the base of a very hot oven. Make sure the tray is of good thickness and able to withstand the weight of the roast.  If the cooking oil catches fire, use a fire blanket to put it out.
6. Budding masterchefs
When cooking for the family and large groups where everything's on the go and kitchen space is a scarce, don't let your attention wander and put down tea towels or oven gloves on a cooker hob.  If you've got all your electrical kitchen gadgets out for the occasion, make sure the electrical leads do not drape across the hob. We recommend this video from Cheshire Fire and Rescue Service
7. Christmas Eve
Stockings hung over the fire place We all want to make Christmas eve a magical time with stockings over the fireplace and mince pies left out for Santa and his reindeer.  Just beware as some Christmas decorations may be highly flammable.
8. Candles
There's nothing like candlelight to set the scene for a cosy Christmas but be extra vigilant.  Don't lean over candles and pay attention to doors opening and closing which may create a draught and draw a candle flame towards nearby decorations or tinsel
9. Light up the street
It's becoming more and more popular to light up our entire homes – insight and out.  Never use indoor lights outside and don't overload the power (see 1 above).
10. Smoking
Fewer people now smoke but just in case your guests do, why not provide them with somewhere comfortable to smoke and avoid the risk of bedroom fires as a result of an cigarette left burning in an ashtray.
Above all, we'd like to wish all our Ultrasafe customers a safe and happy Christmas. 
For support and assistance with any aspect of design, installation, commission or servicing of domestic or residential fire sprinkler systems contact us.
Please do not hesitate, we are always happy to provide a non-obligatory, free quotation as well as free advice and support: