12th Nov 2015
Electrical Fire Safety Week 2015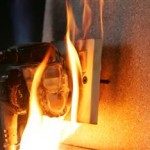 Do you leave pets at home thinking a fire will never happen? Take a moment to watch this short video from Electrical Safety First. This is real and the home owner had no idea what to expect when he left the cameras rolling….
This week is Electrical Fire Safety Week (November 9th-15th). As suppliers of fire sprinklers our mission is to save lives and property from fire and we care passionately about fire safety. Fire sprinklers are a vital last line of defence against fire but they are no substitute for taking precautions to prevent a fire ever starting.
It is a chilling statistic that 60,000 people in the UK have lost a pet in an electrical fire. Once you have taken a moment to hug your furry friend here is some safety advice to help keep your home safe:
Avoid overloading plug sockets
An adapter or extension lead will have a limit to how many amps it can take. Try to keep to one plug per socket.
Check for damaged wires
Regularly inspect wires for damage and wear, check the cable is fastened securely to the plug and look at sockets for scorch marks.
Unplug appliances when not in use
Unless they are designed to be left on, like freezers.
Keep electrical appliances clean and in good working order
Look out for fuses that blow, circuit-breakers that trip for no obvious reason and flickering lights to prevent them triggering a fire.
Check for British or European safety mark
Make sure an appliance has a British or European safety mark when you buy it.
Always use the right fuse
When you're fitting or replacing a fuse, it's important to use the right fuse for the appliance to make sure the cable doesn't overheat and that the appliance is protected in the event of a fault.
Socket overload calculator
The Electrical Safety Council has an excellent online tool that can help you assess whether or not you are overloading an adapter:
The Electrical Safety Council (ESC) is an independent charity committed to reducing deaths and injuries caused by electrical accidents at home and also in the workplace. You can find more information and advice on their website.
Ultrasafe design, install, commission and service domestic and residential fire sprinkler systems throughout England and Wales from offices in Cheshire, East Sussex, Lancashire and Wales. Please do not hesitate to contact us for further information.