25th Feb 2022
Fire Sprinkler System CostWhat is the approximate cost of a fire sprinkler system?
We are often asked 'How much does a Fire Sprinkler System cost?' Of course it is very difficult to answer without knowing more details of the project. However we recognise that it is difficult to make the decision to seriously consider having a fire sprinkler system installed unless you have some indication of the costs. Many people perceive a fire sprinkler systems as expensive and complex to install and so never seriously consider the benefits. Often clients are pleasantly surprised when we explain the actual details and cost involved. In this post we aim to give you some indication of the price and impact on your property.
Cost of fitting a domestic fire sprinkler system in an average family home
A domestic fire sprinkler system is not expensive, costing typically less than 2% of the cost of an average new house. That is usually less than the cost of carpeting the house. The difference is that a fire sprinkler system is designed to last at least 50 years.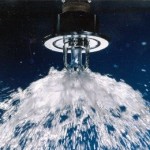 The cost of adding a full fire sprinkler system to an average 3 bedroom family home is in the region of £3000- £9000 depending on the system type. This price is based on a system typically including 10 – 20 sprinkler heads. Generally the mains fed fire sprinkler system is the more cost effective option, but is not always possible see Products for more detail. The type of install will affect the cost as a new build (under construction) is much easier to install than retrospective into a completed property. For example we recently installed a mains fed system for under £3000.
Very often, the areas of a building at highest risk of fire or where additional security is required, can be protected by a part coverage fire sprinkler system. Naturally this would be a smaller system and so the costs are reduced.
Please contact us for a free quotation
There are many options when trying to protect a building from fire. The costs indicated above are only a guide and exact prices vary significantly dependent on the size and nature of the project. These costs do not include water or power supplies or fees. We hope this information is helpful. Ultrasafe are happy to offer free advice on the telephone, arrange a site visit and give you a detailed proposal itemising the design, installing and maintainance a fire sprinkler system most suitable for your requirements.
Ultrasafe design, install, commission and service domestic and residential fire sprinkler systems throughout England and Wales from offices in Cheshire, East Sussex, Lancashire and Wales. Please do not hesitate to contact us for further information.