19th Oct 2020
Fire Sprinkler System installed at Calverts Yard, near London Bridge
Property Details:
Calverts Yard is a residential development located on Borough High Street, near London Bridge. Comprising a town house, duplex apartments, studios and a basement office.
Ultrasafe Sprinkler Solution:
Ultrasafe was appointed by Rackham Construction in the Summer of 2020, to design, install and commission a Fire Sprinkler System suitable for 4 residential townhouses, a Basement Apartment and an office situated in the Basement. 65 Sprinkler heads were installed, providing full coverage throughout each of the properties. The 1st & 2nd fix install took 12 Days and a further day to fully test the installation in preparation for the commissioning stages.
The townhouses and Apartment will each be fed by a dedicated boosted mains water supply. Each system will utilise the smoke/fire alarm and the systems will be linked.  The Basement office system will be fed via a dedicated pump & tank which will be located in its own plant room.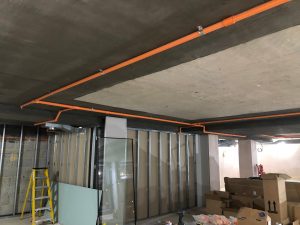 Contact Ultrasafe for more information