14th Sep 2015
Dry Riser orders in August exceed expectations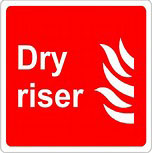 Ultrasafe Dry Risers have had a bumper order book in August. Orders came in from all corners of the UK growing our presence as the premier dry riser supplier in the UK.
Dry Risers are vertical mains fitted into a staircase or lift enclosure for use by the fire brigade to quickly get water at the required pressure in high rise buildings (more about What is a Dry Riser?). They are required in buildings over 18m high and  must be designed and installed in accordance with BS 9990:2015.
One of the secrets of Ultrasafe's success has always been that we are specialists in fire protection systems. We understand not just the regulations and design but also the practical aspects of the installation, commissioning and maintenance. Our expertise and dedication to customer service means that we treat each project separately designing and installing bespoke systems most suited to the individual requirements of each project. For this reason many of our most prestigious projects are complex such as high rise buildings. Dry risers are an essential consideration in the fire protection systems of  many of the complex properties that we work on and a growing part of our business. 
Our specialist experience ensures that we can design and install dry risers competitively, quickly and efficiently and naturally we are delighted to see this reflected in our order book!
If you would like more information on our dry risers, fire sprinklers or fire protection systems please do not hesitate to contact us.